Guardians of Poplarville: New Police Chief and School Board Member Appointed
Published 6:25 pm Tuesday, February 28, 2023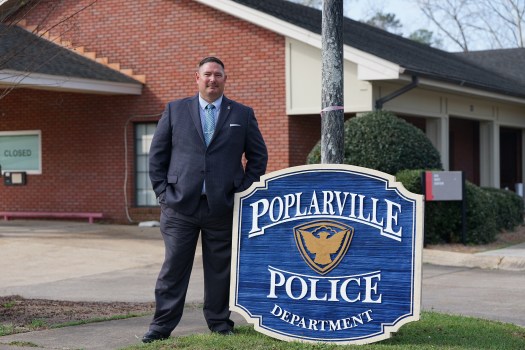 During the Tuesday, Feb. 21, Poplarville Board of Alderman meeting, the city appointed Chad Dorn as the permanent Police Chief and Christina Miller as the new School Board member, and more. After Tuesday's executive session, the Board voted to appoint Christina Miller as the new Poplarville School District Board member. Chad Dorn was also voted as the New Poplarville Police Chief.
The New Chief
Dorn was born in Picayune and raised in Waveland for 5 years. He attended Picayune Memorial High school and Pearl River CC. Dorn has served in Law Enforcement for 22 years. Before entering law enforcement in 2002 Dorm worked as an EMT and Volunteer Firefighter for several years. He started his law enforcement career in Picayune. He stayed for 17 years then moved to Waveland with a desire to work in the same department his grandfather did. He worked there for 5 years. He's done just about everything in the laws department, from patrolling to supervision, chief of operations, and even an accreditation manager.
"Public Service has been my passion," he said.
Public Service runs in the family, Dorn's grandfather, Donald Dorn was the first Chief of Police in Waveland in the early 1960s.
Action Dorn Wants to Take
Dorn will be Chief effective March 9th. Dorn said he wants to hear from Poplarville and its residents about their city and what they believe they need from their law enforcement. He believes it's key for law enforcement to have a relationship with its community and develop community engagement. He plans to get himself and the department involved in the community and hopes the same is received back from the community. He has several ideas to help bridge the two together.
"My goal here is to make Poplarville the top agencies for our size, and reach a service of excellence," said Dorn.
Dorn is big on, transitioning the law enforcement culture from what he calls, 'warriors' into 'guardians'. His description was when you picture a warrior, they are people who are at war, "we aren't at war with the community, we're here to protect and serve them," which is the act or role of a guardian. Guarding, protecting, and building engagement in the community are goals Dorn plans to reach as Poplarville's new Police Chief
In Other Business
Code Enforcement Officer, Kolby Davis informed the Board that the upcoming Popeyes Restaurant, on Highway 26 E across from the Love's Truck stop will be serving food in nearly 3 weeks.
They also heard a presentation from Stephanie Walters on Historical Building in Poplarville. Walters is a Historical Researcher and Consultant and received her Ph.D. in American History in December 2020 from George Mason University. What she spoke about was a historically significant survey for the City of Poplarville and the old Poplarville Hospital, located at 204 Julia Street.
The Old Hospital, which is formally called, Pearl River County Hospital is publicly and locally owned by Pearl River County since 1925 and is on the list of buildings deemed to be demolished. Walters offered the Board a historical background on the Old Hospital Building. The information provided is credited to Walters's research.
Function
Previously used as a hospital, administration building for local government and non-profits, Pearl River County Justice Court, and as an Extension center for Mississippi State University. Its current function is an MSU Extension.
Important Points
The Old Hospital Building currently contains portions of what would be one of the oldest original buildings known in the town, completed in 1892. It underwent massive renovations during WWII. Holds a significant piece of local/national Works Progress Administration (WPA), early 20th-century history. And is one of the oldest town buildings to survive the HWY 11 bypass.
Historic Relevance
Today the Old Hospital Building serves as one of the only remaining historical public buildings in the city of Poplarville. Even with massive renovations in the 1940s, this building as a WPA structure during the WWIl era alone serves as one of the oldest remaining in the town along with a handful of other significant buildings: The neighboring Old Poplarville Library, the Pearl River County Court House, First Baptist Church, and the Poplarville Post Office all constructed between 1900 and 1945. Along with Poplarville First United Methodist Church and Main Street storefronts, all of these remaining parts of Poplarville's limited past should be considered endangered.
The Board of Alderman's next meeting will be held on March 7, 2023, at 5 p.m.
More News Main