Poplarville Board of Alderman Swears in New Police Chief Chad Dorn
Published 4:52 pm Thursday, March 9, 2023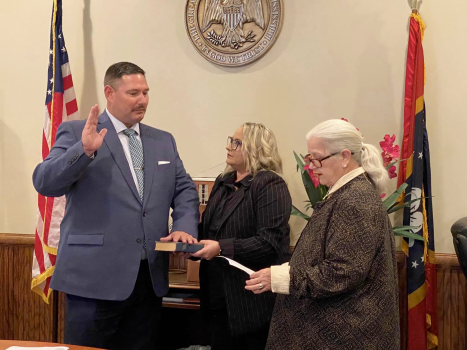 POPLARVILLE – Chad Dorn was sworn in as Poplarville's new Police Chief on Tuesday, March 7 after being appointed by our Poplarville Board of Alderman During the Tuesday, Feb. 21, meeting. Dorn will be our permanent Police Chief effective March 9th. Dorn said he wants to hear from Poplarville and its residents about their city and what they believe they need from their law enforcement. He believes it's key for law enforcement to have a relationship with its community and develop community engagement. He plans to get himself and the department involved in the community and hopes the same is received back from the community. He has several ideas to help bridge the two together. "My goal here is to make Poplarville the top agency for our size, and reach a service of excellence," said Dorn. Dorn is big on transitioning the law enforcement culture from what he calls, 'warriors' into 'guardians'. His description was when you picture a warrior, they are people who are at war, "we aren't at war with the community, we're here to protect and serve them," which is the act or role of a guardian. Guarding, protecting, and building engagement in the community are goals Dorn plans to reach as Poplarville's new Police Chief.
In other businesses, The Board will advertise for a new payroll clerk. The Fire Department was approved to submit a grant worth $100,000 through Pearl River Lower Valley Foundation to purchase Advanced Life Support equipment. Fire Chief Jason Bannister said this will include cardiac motors and other equipment that will speed up the department's response time to emergencies.
"Response time is critical when you have a cardio event," said Mayor Louise Smith.
The Board approved Bobby Mitchell's Cannabis Dispensary Application and location soon to be on HWY 26.
Seven Mayors across the Jackson Metro Area have agreed to participate in Extra Table's event, MMarch of the Mayors. It's a canned food drive, a fundraiser and it's "Mississippi's Largest Food Box Packing Party" complete with Moon Pies, Mardi Gras beads, volunteers and an event t-shirt all rolled into one event with a mission to feed hungry Mississippians.Poplarville will be collecting 1lb bags of rice for the March of the Mayor event. There are several locations to leave donations…Greers, Poplarville Lower Elementary, Fire station, Police station and City hall.
The March of the Mayors is a 4-week-long event, driven by donations of specific food items, that will benefit Extra Table's partner food pantries in the Jackson Metro Area. Each participating city is collecting one specific food item that will be dropped off at different select locations.
Lastly, Juniper Grove Baptist Church youth are was approved to use the Town Green, on May 6, 2023, from 4:00 p.m. until 9:00 p.m. to hold a cornhole tournament to raise money for a youth trip. The event is free for the public to attend and teams that want to compete will pay an entry fee. There will be activities for the children and BBQ plates will be sold.
More News